CHANGING THE GAME.
Next Steps For your craving.
Where to get Germany's first insectburger?
Check out the map above to find a restaurant retailer close by to enjoy our delicious insectburger.
The insectburger is available at REWE & tegut stores. You want to try it first? No problem, just enjoy the ÜBERMORGEN burger at a Hans im Glück burger grill. Find all stores & restaurants in the map above.
Not every listed supermarket does necessarily have the insectburger in stock
Many REWEs (especially in the east and middle of Germany) do have the insectburger in their assortment, but aren't marked on our map yet
Just ask at you REWE or tegut if they have the insectburger available
world ...
the time has come to push some buttons.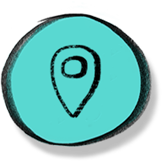 EAT IT. NOW!
Wheeeere can I eat this lovely good looking burger made of insects? Here are all the locations across europe!