Insectburger @ Hans im Glück
Since february Germany's first insectburger is available at the burgergrill "Hans im Glück".
Only the freshest ingredients in best quality are served - just like you always wanted a really yummy burger to be.
With the "Übermorgen"-Burger ("Übermorgen" means "the day after tomorrow") we want to initiate thought impulses together with Hans im Glück. Also we'd like the guests to to broaden their minds and eating habits.
This is how it's served
The "Übermorgen"-burger is served with a ciabatta bun. Of course a good sauce can't be missing: together with Hans im Glück we decided that the vegan Hans im Glück sauce is the sauce to go - it perfectly matches our insectburger. To top the burger off it is plated with fresh lettuce, tomatoes, onions and fresh herb salad. For perfection we added some really delicious vegetable tartare.
Why is the Burger alles "Übermorgen"?
"Übermorgen" translates with "the day after tomorrow". At Hans im Glück we'd like to offer a yummy prospect of the futures eating habits. In 2050 there will be 9.7 billion people living on the earth, according to the United Nations.
Insects are a sustainable and resource preserving food. Together with Hans Im Glück we want to think about the tomorrow and the day after tomorrow and support a responsible and sustainable handling of our resources.
By the way: for about 2 billion people it is completely normal to eat insects every day.
Hungry?
Find a Hans im Glück nearby:
world ...
the time has come to push some buttons.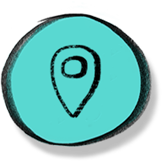 EAT IT. NOW!
Wheeeere can I eat this lovely good looking burger made of insects? Here are all the locations across europe!