Frequently Asked Questions
• Where can I buy the Insect Burger?
During the last year we improved our insectburger!
Soon you will find it in the refrigerated section. Without any artificial additives or bells and whistles - like always.
But this also means that we are slowly removing our products from the frozen section of the supermarktes.
Find more information here: https://bugfoundation.com/locations-en.html
• Can the Insect Burger be sent to me?
We currently do not ship our insect burger to private customers, because shipping deep frozen products is expensive and not very ecological.
• How does Germany's first insectburger taste like?
LEKKER! Seriously … the insectburger is all about taste! Still, it's difficult to describe how it exactly tastes like. There is just no such product as our burger. The insects give the patty a characteristic, rather nutty flavour. The taste resembles sunflower seeds or peanuts. After simply preparing the product in your oven, it causes a pleasant crunchy textural sensation in your mouth. We recommend combining our burger with a smoky Barbecue Sauce or a creamy Pepper Sauce with which the patty harmonizes incredibly well. The distinctive original taste shall remain unchanged, so it's for sure! If you want to get a real own impression its unique taste, devour it all by yourself!
• The insectburger is made of ... ?
Germany's first insectburger contains the following ingredients: 45% rehydrated buffaloworm-soyprotein (60% buffaloworms Alphitobius Diaperinus, 40% soy protein concentrate), water, rape oil, onions, egg white* (dried), tomato concentrate (tomatoes, salt), soy sauce (water, soybeans, wheat, salt), mustard (water, mustard seeds, vinegar, salt, sugar, spices), potato starch, spices, salt, lemon juice, parsley

*free range
Allergy note: In case of an allergy to crustaceans- and shellfish as well as dust mites, the potential of an allergic reaction to insects is given.
May contain traces of celery.
• Why frozen and how to prepare the frozen burger patty?
Our burger patty is a frozen food product as it guarantees freshness of all ingredients and a long shelf-life
without adding any preservatives.
Germany's first insectburger is preformed and designed to be in your oven directly, without tedious defrosting. Just as simple as preparing a pizza! Single Consumer or Chef de Cuisine, it couldn't be easier for whomever prepares a delicious individualized insectburger. Detailed preparation instructions are placed on each packaging.
• Can I barbecue the insectburger?
Germany's first insectburger tastes, barbecued with fumy touch, especially well. At the same time
our burger patty is not specially designed to be prepared on a grill. Proceeding with sensitivity,
you'll be able to conjure a top burger. However, such try outs are combined with personal responsibility.
Our recommendation: Don't be afraid and try both alternatives. For the "challenging" version simply ly the still deep-frozen burger patty onto your hot grill. Now you're supposed to observe the situation. Wait for a nice, crusty, brown bottom side until turning the patty around. It will be way easier then and guarantees that your burger patty is well-done. Carefully turn the patty around and let it fry equally from the other side - ENJOY YOUR INSECTBURGER BBQ-STYLE!
• Is the insectburger vegetarian or even vegan?
Our insectburger is made of lesser mealworms which means it is definitely not a vegetarian or even vegan food product. Insects are animals and therefore generally not included in a vegetarian or vegan diet.
However, the breeding conditions can be assessed as species-appropriate compared to intensive livestock farming in the common meat producing industry. Besides, insects generally contain highly valuable proteins and are usually dense in important micronutrients such as iron, zinc and B-vitamins.
As opposed to regular meat, insects are more sustainable and resource-saving food for the future.
• Is the insectburger gluten-free and lactose-free ?
Our insectburger is made from antibiotic-free insect meat, bio-soy and other plant-based products. As our burger patty contains soy-sauce it is not gluten-free and therefore not suitable for people who have to deal with celiac disease.
However, our insectburger is lactose-free.
• Do products from insects contain allergenic or even toxic substances?
To grow our insects in the Netherlands no antibiotics, no hormones and other artificial and critical substances are needed.
However, be aware: With an allergy on crustaceans and shellfish as well as mites the possibility of an allergy on food insects is likely. Moreover, the rpoduct can contain traces of celery.
• Where are the Bugfoundation's insects from?
The buffalo-insects we use are grown under controlled and hygienic conditions in the beautiful Netherlands. Due to German law, breeding sites for human consumption were not allowed in Germany. We attach great importance to the quality of our products which only can be guaranteed by working with our experienced breeding site. Additionally, we care about short transportation routes to decrease the ecological footprint of our products. If you're keen on getting more information about the breeding site, click here and check out Proti-Farm!
• How are the buffalo-insects grown?
The buffalo-insects are grown in the beautiful Netherlands where our breeder Proti-Farm is located. The company is optimizing the breeding standard for their insects and is a trustworthy source for our main ingredient. As most insects, lesser mealworms feel comfortable in masses and gladly live together with one of their kind. Where mass animal keeping is a critical issue for the consumer nowadays, this argument does not hold for worms as they can easily be bread species-appropriately. Further, no antibiotics, hormones and other artificial and critical substances are needed nor used to grow the insects for our burger.
What our insects are eating? Our breeder formulates it like this:
The diet consists of GMP+-certified vegetable side streams which are in accordance with the European Feed Law. The feed composition has been optimized, through more than 35 years of breeding experience, to increase the efficiency of this valuable resource.
For most consumers it is important that they get vegetable-based feed and that it is 100% traceable (GMP+). In simple words; the buffalo beetle lavae eat feed that is graded for animals used for human consumptions. No waste side streams means that these are products that remain after the production of food for human consumption. These streams can't be used for human consumption but, are very useful for animal feed as long as they can be traced and in our case are vegetable. The animals are feed with a composition of dry and wet feed. Because of this wet feed we don't have to add any water in the breeding process.
We are always looking at new feed streams, to further improve our sustainability objectives and meet up to our nutritional targets. We will never change suddenly, as it might change the specs. Feed also needs to be available on large scale and in a constant flow

Want to know more about our correspondent breeding site?
• How can I imagine a buffalo-insect being killed?
We can assert, our buffalo-insects simply fall asleep and get reincarnated as our insectburger. Insects are cold-blooded-animals. Since our buffalo-insects adapt their body temperature to their outer world, they simply fall into kind of hibernation when they get cooled down. This also happens in the nature quiet often, e.g. when it cools down at night. With the difference that they are frozen much longer to not wake up afterwards. Subsequently, the fine chopped insects get processed with all other vegetarian ingredients.
• Why was the insectburger not available Germany?
Until 2018, the Netherlands, Belgium, Switzerland and Denmark were the only countries that clearly allow to market and consume food products including processed insects. Some countries, like France and UK tolerate them, while others like the overcautious Germans didn't.

The Europe-wide permission for insects as food finally came with the year 2018 and we finally enter the German market in April 2018… stay bugelicious and meet us in one of our restaurants in and outside Germany!
• Our burger for your business?
You're an aspiring restaurant owner, food retailer, buyer for your delicatessen shop or you're simply looking for a tasty, innovative food product which combines all 4 good reasons to be bought? Push your business forward and get all necessary information by requesting detailed information about our products by mailing at sales[at]bugfoundation.com.
• more questions?
Your question could not have been answered? Feel free to get in touch with us and we will get back to you as fast as we can.
world ...
the time has come to push some buttons.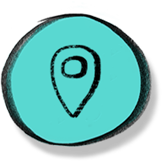 EAT IT. NOW!
Wheeeere can I eat this lovely good looking burger made of insects? Here are all the locations across europe!